VoLTE technology has been there for a while and it picked up momentum in India after the launch of Jio 4G. Jio had upper hand as it was the only operator in India to provide VoLTE services. In case you didn't know what VoLTE is, it is a technology which uses 4G data for calls instead of traditional 3G and 2G networks. A USP of VoLTE is the ability to use mobile data while on call along with High Definition Calls.
Now, other telecom operators are gearing up to launch VoLTE services in India. Airtel, one of the most popular telecom operators in India is making an announcement tomorrow(10th July 2017) at a press conference in Delhi.
What could be Airtel announcing? Here are some of the possible announcements that Airtel might make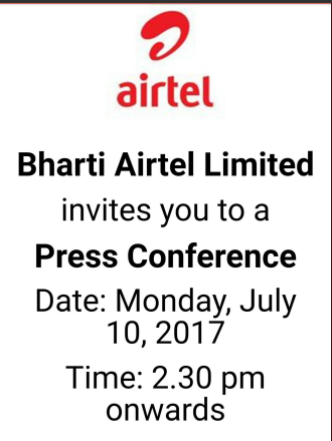 Image Source: Telecom Talk
List Of Possible Announcements:
The launch of VoLTE services.
Airtel has been testing VoLTE in Mumbai in a pilot phase for quite some time now and Carrier update to enable support for Airtel VoLTE was rolled out to iPhone and Redmi Note 4. So there are high chances of announcement related to VoLTE.
There have been rumours for quite some time about the merger of Airtel and Tata Docomo. We could see an announcement about that.
Airtel recently provided free data offer under Monsoon Offer for its postpaid customers. There are high chances of an announcement of new attractive plans for prepaid and postpaid customers to counter offers provided by incumbent operators.
Airtel has been constantly working on expanding their network coverage across the country and we have seen the same with 'Project Leap' from the company. We might also see an announcement of network expansion plans.
We will have more information tomorrow and the post will be updated. Stay tuned to TechUNeed!