Bosch, a popular multinational engineering and electronics company has been manufacturing products of great quality meeting consumer needs. The products by Bosch powetools are one of a kind and offer good quality.
In the same line, the company has launched a Smart Screwdriver named Bosch GO. The product was launched last week in India with a grand launch. Let us see more on the launch and the smart screwdriver in this article.
Bosch GO- Smart Screwdriver:
'Bosch GO' is the smart screwdriver where a simple push gets the work done and it's intelligent E-clutch system knows when to stop on reaching the target torque. The strong spindle lock closes the gap between manual and automatic operation helping users to stop impending work on demand.  The lithium-ion battery powered screwdriver is compact and easy to carry around anytime, anywhere. The tool is designed to be as close to the shape and size of a manual screwdriver in order to help the Indian user leapfrog from manual effort to effortless working with minimal discomfort.
Developed with an extended UX approach and with a user-friendly design, it adds an aesthetic value to repair tasks. From tightening to loosening screws, this smart screwdriver comes with adjustable 5/2.5 Nm torque and the speed goes up to 360 rpm. The screwdriver has superior balance and weighs only 280 grams for reduced user fatigue. The user can even use the product manually as it has a spindle lock that allows him to carry on the screw driving operation without any hassle.

'Bosch GO' is powered by the 3.6V 1.5Ah in-built battery for longer run time and 90 mins of charging attains a full charge. 'Bosch GO' features new innovations that delivers unprecedented run-time and efficiency for any kind of application. It has a Micro-USB charging point and a 3-LED charging indicator. The screw driving functions can be carried on with absolute ease due to the rotary brush plate that assists with the forward and reverse rotation.
The smart screwdriver is available in a kit version which comes with a 33 piece accessories kit, USB adapter and a USB cable. It is packed in a compact plastic case with a sleeve, user manuals and product-related information.
Features of Bosch GO:
These are some of the highlighting features of Bosch GO Smart Screwdriver
Powerful:  4x more powerful than any existing screw driver in size and form
Push & Go:  Intuitive operation style – Just push to drive screws
Precise:  Intelligent E-clutch stops when you want to stop
Dual Mode:  Switch between powered and manual screw driving

Use cases of Bosch GO:
Tightening door hinges
Fixing electrical switchboards
Fixing false ceiling fixtures
Repairing cycles
Furniture installation
Technical Details: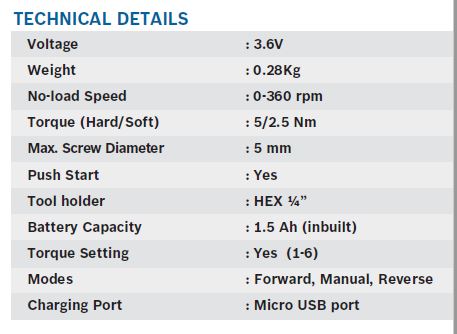 Commenting on the launch, Panish PK, regional sales director and business head – India and SAARC – Bosch power tools said,
Today, consumers expect a smart device for an enhanced performance, longer lifetime, and faster charging cycles as well as compact designs. This new smart screwdriver combines all these features, and is bound to boost engineering standards. Innovation has always been at the heart of our offerings and we are positive that consumers across the nation will benefit with this new tool from Bosch.
Pricing and Availability:
Bosch GO is available on Amazon India and Flipkart for a price of INR 2,399 ( MRP INR 4,450). It will be available at deal stores across India starting from October.
Best Buy Link: