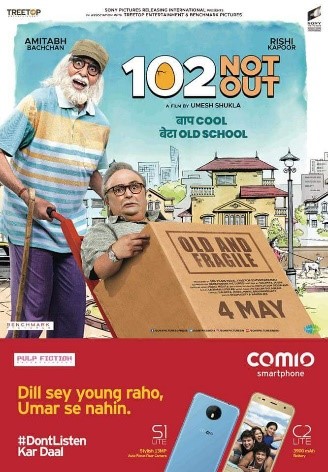 COMIO Smartphone- The emerging smartphone brand as per Cybermedia Research, has tied up with the upcoming family entertainer, '102 Not Out'. '102 Not Out' is a Family comedy-drama film directed by Umesh Shukla, starring Amitabh Bachchan and Rishi Kapoor in the lead roles.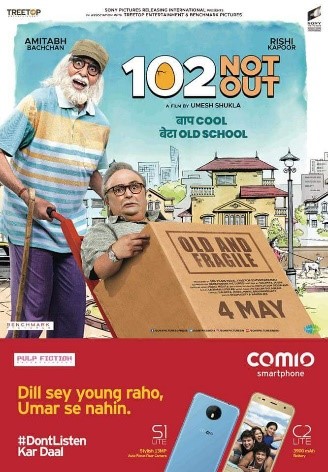 The film is a clean entertainer, revolving around a 102-year young Dattaraya Vakharia, played by Amitabh Bachchan who lives life to the fullest and wants to break the record of an oldest living man that's held by a 118 year old Chinese. His other goal is to change his son Babulal's sad and grumpy demeanor and teach him to celebrate life and live it to the fullest because he feels every moment gone is not going to come back. This is in perfect sync with the COMIO brand philosophy of following your heart, exemplified in their tagline 'Don't Listen, Kar Daal'.
On the partnership, Mr. Sumit Sehgal, Chief Marketing Officer, COMIO Smartphones said,
"We are excited to partner with '102 Not Out', the much-awaited movie of the season, presenting two legendary stars of Bollywood. As a youth smartphone brand, we at COMIO continuously endeavor to come up with delightful associations that strike a chord with our target audience and resonate our brand philosophy. So, here's wishing the entire cast and crew of '102 Not Out' all the very best for a blockbuster success."
COMIO supports and encourages the youthful spirit of individuals who aim to dream big and take the plunge, perfectly in sync with the messaging of the movie.
On the occasion, the Director, Mr. Umesh Shukla said,
"102 Not Out celebrates the spirit of youth with two highly versatile and celebrated stars of Bollywood. Though they have come together after 27 years', they exhibit a great chemistry together. I am glad about our association with COMIO Smartphones, a youth brand which is a perfect fit with the spirit of the film."
About COMIO India
COMIO Smartphone- #1 emerging smartphone brand by CMR, entered the Indian market in May 2017. Building on the legacy of its manufacturer-Topwise Communication, COMIO smartphones have been designed keeping the Indian consumer in mind. Headquartered in New Delhi, the brand caters to the mid-level segment which is the fastest growing in India through a range of innovative, technologically advanced and user-friendly products. The brand launched its first smartphone in China in 2015. Since the inception of the brand in India, the company has bagged prestigious awards including 'The Most Promising Brand' by The Economic Times.