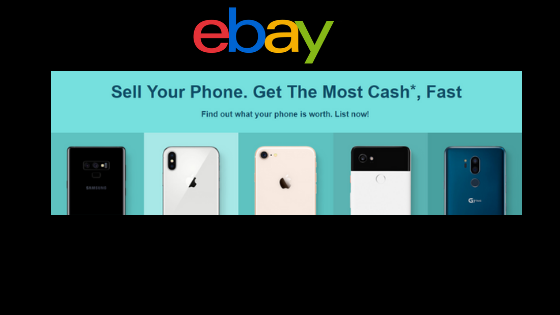 In the world of modern-day smartphone launch, consumers find it difficult to trade in their old smartphone for a new one. Fortunately, for the consumers in the USA, eBay today has announced the launch of eBay Instant Selling.
The new program,eBay Instant Selling, allows consumers to sell their devices and get paid instantly with an eBay voucher, without having to manage the selling process. The entire process takes only a matter of minutes, from start to pay.
eBay Instant Selling removes the time spent waiting for their device to sell with a new option to receive instant payment in the form of an eBay voucher once the phone is listed. Standard smartphone trade-in providers typically offer 40 to 50 percent off the average market selling price, while eBay provides a higher return – up to 40% higher than trade-in values, on average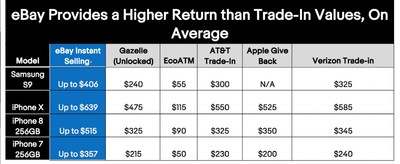 A recent study commissioned by eBay found that while a majority of Americans (61%) have never sold or traded in a smartphone they no longer use, 2 in 5 (40%) have two or more unused smartphones currently in their home. That could equal potentially hundreds of dollars left on the table which could be applied toward a new device upgrade or anything else on your wish list by shopping on eBay.
How does it work?
Here's how to put your phone's current value toward your new smartphone:
Visit eBay.com/s/phone
Enter your device info, determine if it's eligible for Instant Selling
Add images. Click List and accept terms
Receive your instant voucher, which can be used toward the purchase of a new device on eBay
Ship your phone quickly with a dedicated eBay shipping label you print off yourself
About eBay:
eBay Inc. is a global commerce leader including the Marketplace, StubHub and Classifieds platforms. Collectively, they connect millions of buyers and sellers around the world, empowering people and creating opportunity through Connected Commerce. Founded in 1995 in San Jose, Calif., eBay is one of the world's largest and most vibrant marketplaces for discovering great value and unique selection. In 2017, eBay enabled $88.4 billion of gross merchandise volume.