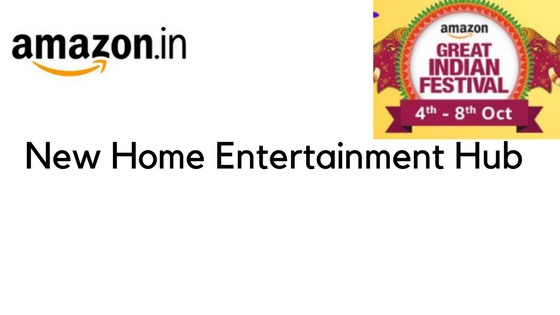 Amazon's Great Indian Festival kick started yesterday with wide range of offers across electronics, fashion, home decor and more. In line with that, Amazon.in today announced the launch of a specialized store on home entertainment products.
The new store, Home Entertainment Hub, is curated with handpicked devices from streaming media players to LED televisions and aims to simplify customers shopping experience by helping them identify and purchase suitable home entertainment products this festive season.
From the desire to get a theater like cinematic experience at home, with a wide variety of video content, to indulging the gamer or the music buff in you, Amazon.in's Home Entertainment Hub has it all! The new store will guide customers to gadgets of their choice and specifications.
The store collates everything from Projectors to Soundbars to Home Theaters, Gaming Consoles to Gaming Laptops & Vinyl Players, DJ Controllers and Karaoke Players under one convenient location. Showcasing the top products in the price range of the customer's choice, the store will aid customers to make an informed decision on the best combination of compatible devices while transforming their home into an entertainment destination!
On top of that, there great offers like Cashback, No Cost EMI and Exchange Offers (TVs only).
Further delighting its customers, as an additional treat this festive season, Amazon.in has also announced the Home Entertainment Fest from 4th – 8th Oct with amazing discounts on big brands!
Check out the new Home Entertainment Hub here Link
Speaking on the launch of the new store, Jonathan Burks, Category Leader – Consumer Electronics, Amazon India, said
We are thrilled to launch this new store along with the Great Indian Festival. The Home Entertainment Hub recommends highly rated, well-priced products that work together with Prime shipping promise based on your requirement. We put a lot of care and expertise into choosing the right product for you at the best value. With the festive season around the corner, this is an opportune time to help you transform your home entertainment experience in a simple, hassle-free and enjoyable manner.