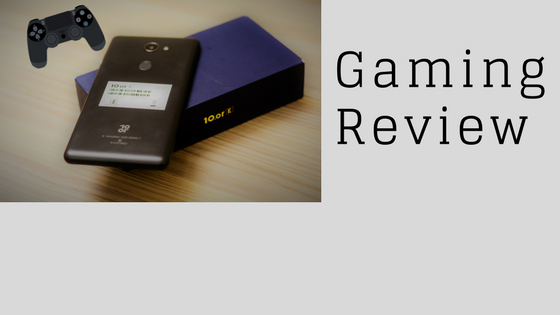 A new smartphone brand made its way to the Indian market a few weeks back, with a budget offering. It is an Amazon exclusive smartphone called 10.Or(pronounced as Tenor). The first smartphone from the company is the 10.Or E , a budget offering priced at ₹ 7,999 and ₹ 8,999 for the 2 GB RAM and 3 GB RAM variant respectively.
We have been using the smartphone for sometime now and we tested out the gaming capabilities of the E. In this article, let us see how well 10.Or E fares when it comes to gaming.
Gaming Performance:
10.Or E is powered by Qualcomm Snapdragon 430 chip set and Adreno 505 GPU. It comes in two variants, one with 2 GB RAM and the other with 3 GB RAM. The unit we tested was 3 GB RAM variant.
We started off with some casual games and then moved on to graphic intensive games. Subway Surfers, Temple Run and Leo's fortune ran well without any issues. There was no frame drops nor any lag, whatsoever.
We then tested the smartphone with graphic intensive titles like Asphalt 8, Real Racing 3 and Need for Speed No Limits. The graphic was set to maximum by default. The loading time with all three games were quite quick. We didn't any issues there.
When it comes to the actual game play, the performance was quite surprising. It was able to handle the games very well with no lag or frame drops. The graphics were getting rendered fully with Asphalt 8. But there was a slight lag when hovering through the menu and settings in Asphalt 8. That shouldn't be a deal breaker.
The same goes with Real Racing 3 and Need for Speed No Limits too. There was no lag or stutter in the game play. On top of that, the temperature remained under control.
We posted a dedicated video of the gaming performance with 10.Or E. Check it out below
Overall, the gaming performance with this phone was quite impressive considering the price at which it is selling. We will post the full review shortly. Stay tuned!
Buy Here: 10.Or E