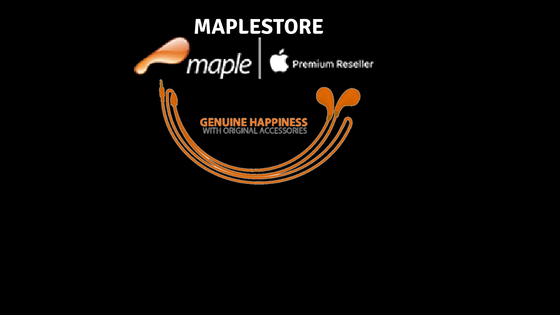 Protection is the utmost priority for anyone, everywhere, be it electronics or life. Everyone wants their gadgets to look the same as the day they unboxed it. Nevertheless, the last thing a smartphone or any gadget user wants is to see his/her gadget getting damaged. We buy expensive smartphones/tablets but fail to understand how important it is to protect the same from getting damaged.
Customers buy flagship smartphones but aren't aware that getting a case/cover will protect their smartphone from accidental drops and damage. As the proverb says, it is better to be safe than sorry, getting a good quality case/cover for a smartphone is one of the best ways to protect your smartphone.
So now, you are convinced to get a case for your iPhone or tablet, but not sure where to start. What if I told you, there is a brand that is based in India catering just to Apple products alone. Yes, a brand named MapleStore is the hub of all Apple products in India. They sell all Apple devices and its related accessories. It includes Apple iPhones, iPads, Macs, Apple watch, Apple Adapters and cables, iPhone cases and covers and more. Let us see more on that in this article.
1) Adapters and Cables:
www.Maplestore.in has a wide range of cables and adapters for all Apple products that includes iPhone, iPad, MacBook etc. They have a huge collection of cables and adapters from Apple and also from third-party manufacturers. The best part about these accessories is that they are Apple MFI certified. 
Lightning Cable for iPhones and other Apple products are offered by third-party manufacturers like Adam Elements on Apple store. The lightning cable from Adam elements is a sync and charge cable with included waterproof protection. The cable is Nylon braided and has a premium quality to it.
Other accessories under the Apple Adapters and Cables section in MapleStore includes accessories like Gravity Lift which is a wireless charging dock for Apple iPhone X. The store also has other accessories like 30-pin adapters, Lightning cables, MagSafe adapter, expandable storage (Flash drives) for iPhone, iPads and more. You can check out all the products at MapleStore Adapters and Cables.
2) Cases and Screen Protectors:
MapleStore has a dedicated section for cases and screen protectors for iPhone and other Apple products like iPad, Mac, Apple Watch etc. They have a range of cases right from a blunt looking Silicone case to Stylish cases and leather cases for iPhones. You can give your old iPhone 5S/SE a new look with stylish cases offered by MapleStore. Yes, they have accessories for iPhones starting from 5S to X.
The different types of cases provided by the brand include Frost case, Stylex cover, Airfender case, Anti Scratch case and more. Apart from iPhones, there are cases and other accessories for iPad, MacBook, Apple Watch etc.
If you are a fan of metallic cases, the store has got you covered too. MapleStore offers a Metallic case for iPhone with Glitters on the case.
3) Other accessories:
Apart from cases, adapters and cables, MapleStore also offers other accessories. The list includes
Docks and Mounts
Headphones and Speakers
Storage and Powerbank
Bags and Sleeves
and more
4) Pricing:
The prices for Cases and Protection start from as low as Rs. 199 and goes all the way up to Rs. 13,999. The pricing for Adapters and cables start from Rs. 900 and go all the way up to Rs. 9400. An online sale enables up to 80% discount on the products. Rush to the online store and buy your favourite products!
Overall, if you are an Apple user and want your gadgets to be protected from accidental drops, scratches, then you can try MapleStore for all the accessories related to Apple.