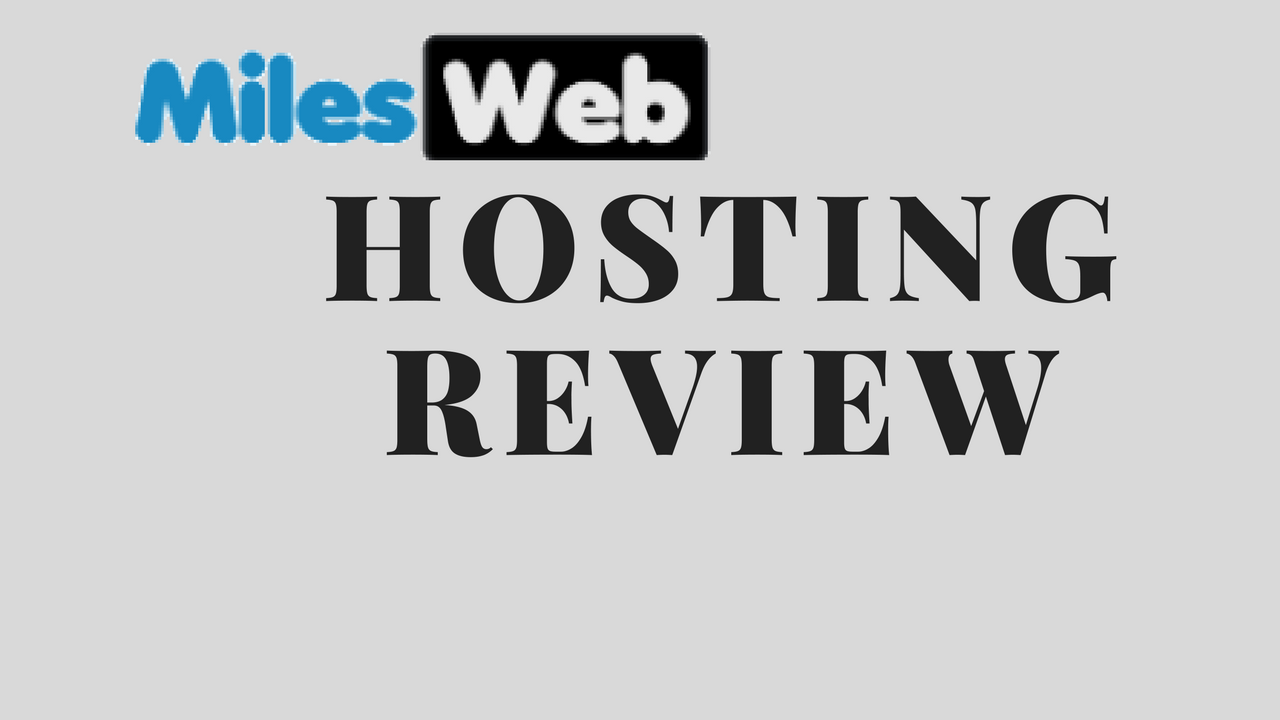 It has become important for everyone to gather more and more information about the web hosting company before buying a web hosting plan. There are lots of things to consider while choosing the web hosting company. Whether you are going to start a business or want to shift from one hosting provider to another hosting provider you need a hosting with affordable pricing, easy control panel, tech support and much more.
To get you all out of such confusion, today I will suggest you one such quality web hosting solutions provider – "MilesWeb"
About MilesWeb:
MilesWeb is a web hosting company based in India revolutionizing the web hosting field. MilesWeb was founded in 2012. MilesWeb Hosting solutions is simplified and personalized keeping latest technology head to head. They have their professionals available 24 X 7 X 365 to solve the issues if any that you may encounter.
MilesWeb Hosting Review:
MilesWeb has revolutionized the web hosting industry with their amazing lucrative hosting plans. They have hosting plans according to wants and needs of users along with industry standards. MilesWeb provides you with everything that is necessary to host and manage your website. Some of the highlights of MilesWeb includes
99.95% Uptime Guarantee,
Lifetime Free Domain,
Pure SSD Storage,
Free SSL Certificate,
Pro Website Builder,
Secure Email Accounts,
Free Migration
You can install all apps like WordPress, Joomla, Drupal, phpBB and much more in just a click using their 1 click installer "Softaculous". One of the most important features of a good web hosting server is uptime. If it not there the whole point of getting yourself online becomes useless. A site which is not easily accessible to anyone for the first time is not prone to draw much traffic or earn any identification and revenue for that matter. MilesWeb guarantees uptime most of the time.
Shared Hosting plans by MilesWeb:
MilesWeb offers you the freedom to choose your data centers. They have their data centers in India, US, UK, Australia, and Romania. You can choose your data centers at the time of Signup with no additional cost.
Another amazing feature of MilesWeb is Free Migration. They migrate all your website data onto their servers with no data migration charges.  You can go online instantly with them. All cPanel hosting packages are setup immediately upon the payment confirmation. For optimal data security, they configure secure daily automated daily backups at an offsite location with quick restore ability.
Here are the plans offered by MilesWeb which provide value for money.
You can use the following coupon codes to get additional discounts on the plans
Economy Plan: ESTAR (15% off)
Value Plan: VSTAR (25% off)
Unlimted Plan: USTAR (35%off)
Linux Reseller Hosting: JBIZ (50% off)
WordPress Hosting Infinite Plan: IWPJ(45% off)
Refund policy:
MilesWeb offers 30 days money back guarantee. This is applicable for first-time sign ups. Pro-rated refunds are also not available for repeated cancellations by the same client. An anytime money back guarantee to all customers using services like reseller hosting, managed shared hosting and Linux VPS are allowed with no conditions applied.
Things that come under refund criteria are domain registration fees, SSL and Self managed VPS, cloud and dedicated server.
Should You Buy MilesWeb Hosting Plan?
MilesWeb has proved them since 2012 as the web hosting company growing gradually and made its name in one of the finest web hosting companies of 2017. They have spread their arms internationally in 2013. Here are some of the reasons for you to choose MilesWeb hosting:
Efficient Uptime – Proven 99.95% Uptime
Multiple Location Server – You can choose your server location as they have servers in India, US, UK, Australia, and Romania.
Instant Setup – Your account is setup instantly after payment confirmation.
Final Verdict: Yes, MilesWeb can be one on your list of top hosting providers for best website experience.
Get MilesWeb Hosting Here: Best Deals on WordPress Hosting