You would have attended a lot of interviews in your career life and even been in the position of interviewing someone. It is always surprising to see that how interviewers choose candidates and the factors that they consider. There are many platforms for candidates who prepare for an interview. But there isn't much for interviewers compared to the former.
Today, let me introduce you to a new startup based in Chennai called 'InterviewDesk'.
About InterviewDesk:
InterviewDesk is India's first on demand interviewer platform. It was founded by Mr. Pichumani Durariraj in the year 2017, and they work on a unique concept of an outsourced interviewing model which helps the organization save 50% of time and cost spent on hiring. To be precise, it is built as a marketplace model where they are working towards the vision of building India's largest interviewing community.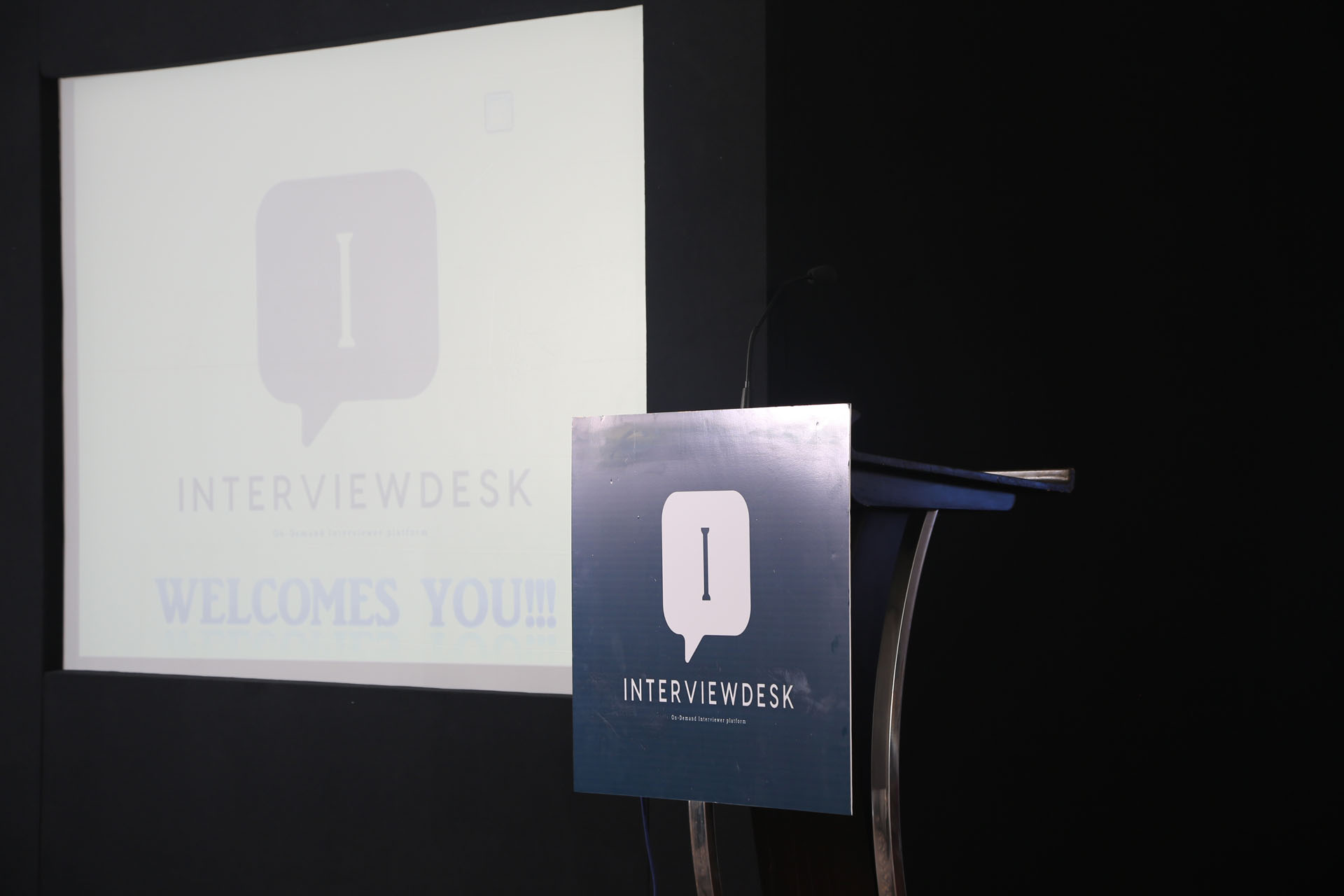 Launch Event:
InterviewDesk invited us to the launch event in Chennai that was held on 10th August 2017. We were at the event to cover it. Here's all that happened at the launch event of InterviewDesk.
The event kicked off with a fun quiz on the topic of Interview, Jobs etc. Many people attended the event and it was a full house. A short AV about the company, their ideas, aim and about the CEO then followed.
Mr. Pichumani Durairaj, CEO of InterviewDesk started his speech speaking about his career, the company and how he got the idea of starting InterviewDesk and more.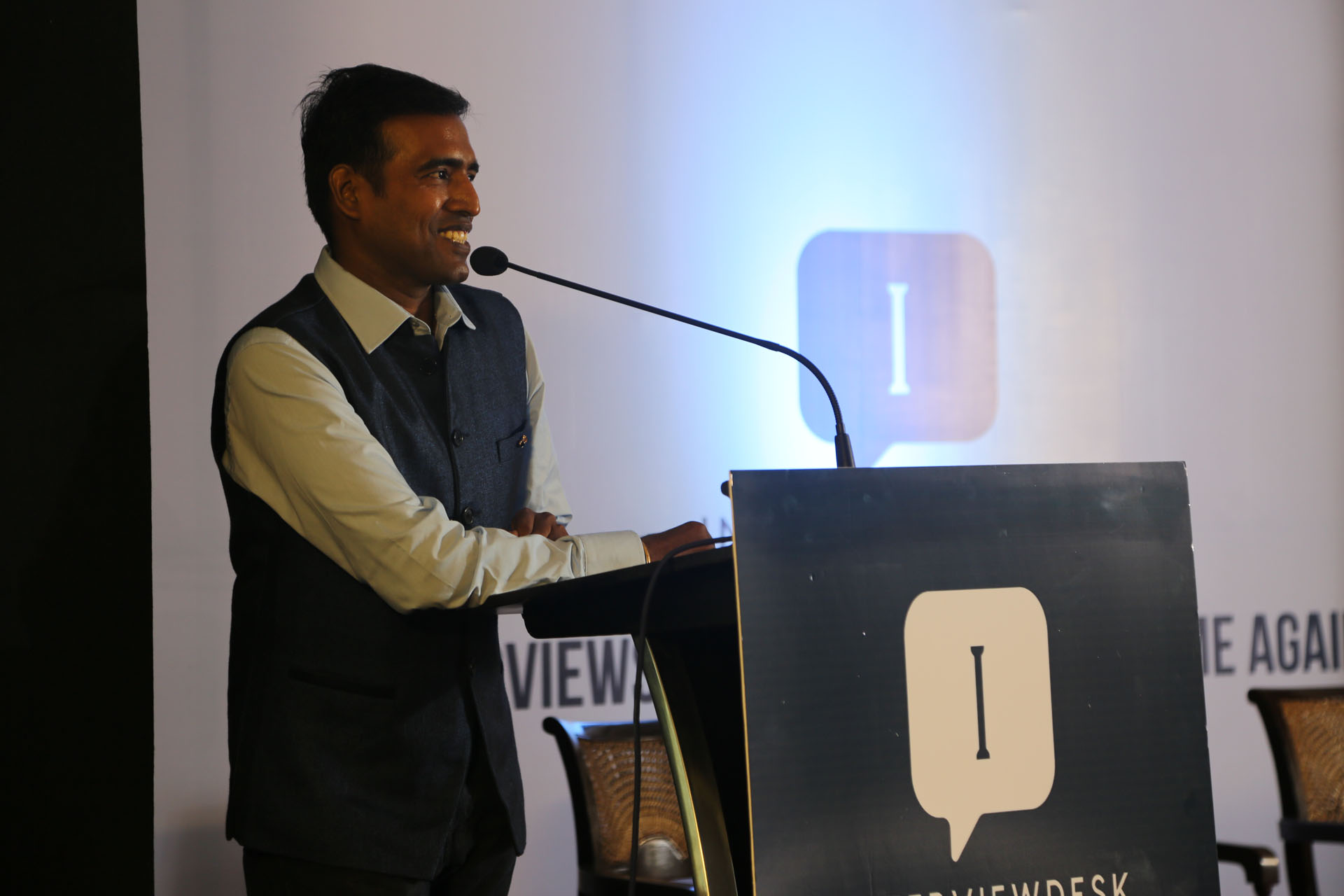 Mr.Pichumani Durairaj
Many Chief Appraisers and Chief Motivators of the company too graced the occasion. The Chief Appraisers of the event were
Mr.Manikandan Thangarathnam, Director of Engineering, Amazon
Mr. Arasu Shanker, CEO, EShakthi.com
Mrs. Latha Pandiyarajan, Managing Director, Varam Capital
Mr. Kamalakkan Purushothamam, Regional Director, NASSCOM
The Chief Motivators of the Company were
Mr.Kumar Vembu, CEO & Founder of GoFrugal Technologies
Mr. Bhupesh Nagarajan, Executive Director, Indira Projects, and Development
Mr. Jawahar Nesan, Vice Chancellor, Saveetha University
Mr. Lokesh Kanagaraj, Film Director
The speech followed Mr. Pichumani was by Mrs. Latha Pandiyarajan, MD of Varam Capital and Co-Founder of Ma Foi. She spoke about her journey in the HR industry, shared a lot of information about the corporate world, the journey of Ma Foi and Varam Capital. Mrs. Latha then gave a speech on Mr.Pichumani and InterviewDesk and how it will be a revolution in the interviewing industry.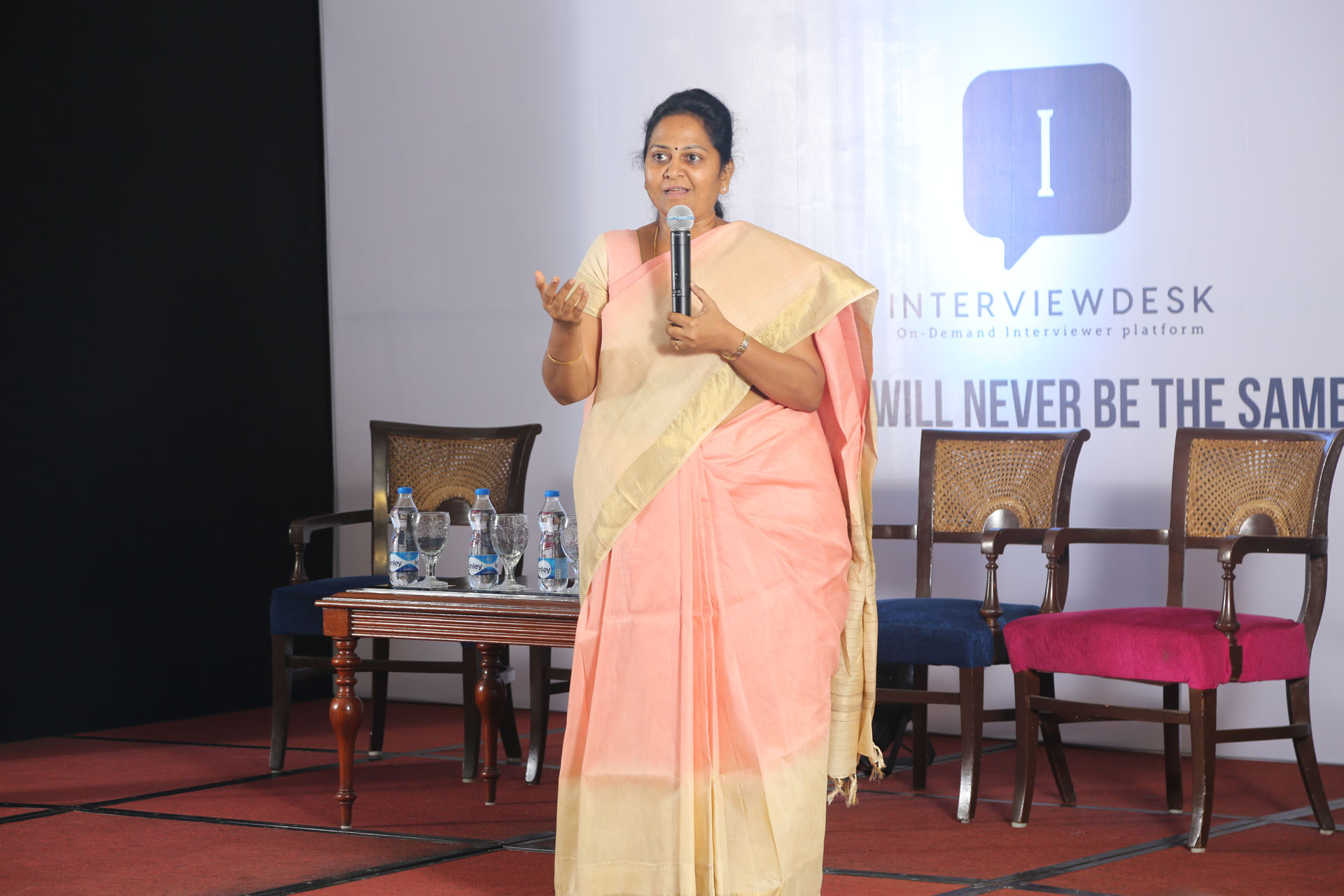 Mrs.Latha Pandiyarajan
The event progressed with the next speech by Mr. Manikandan, Director of Engineering, Amazon. He was the one who headed the team who gave us some awesome products like Amazon Fire Stick, Echo Dot, Fire Tablet and more. Mr. Manikandan spoke about how good recruiting helps build a company. He also shared his experience and journey in Amazon.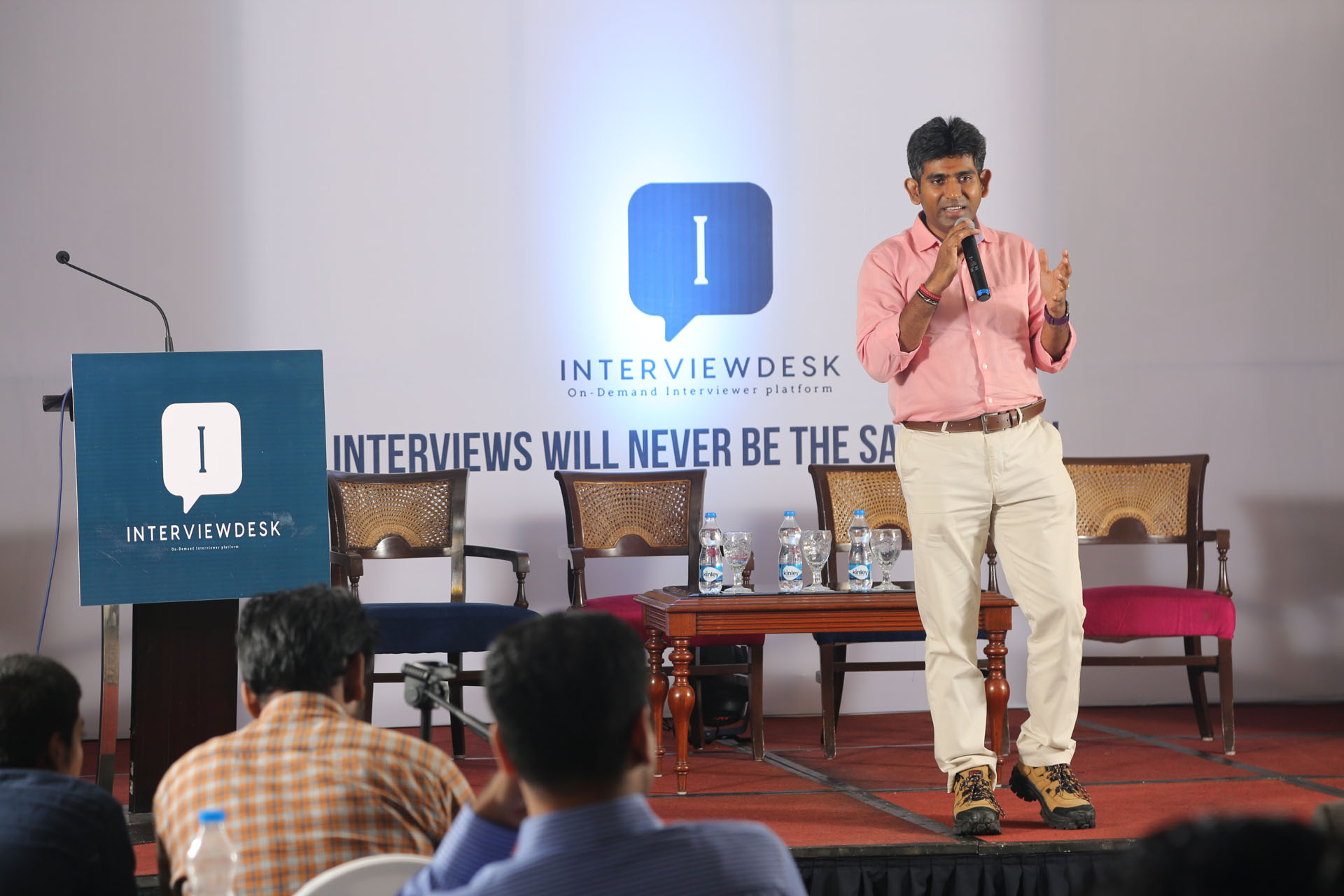 Mr. Manikandan Thangarathnam
The event then saw four panelists on the stage sharing their experience, journey and about InterviewDesk.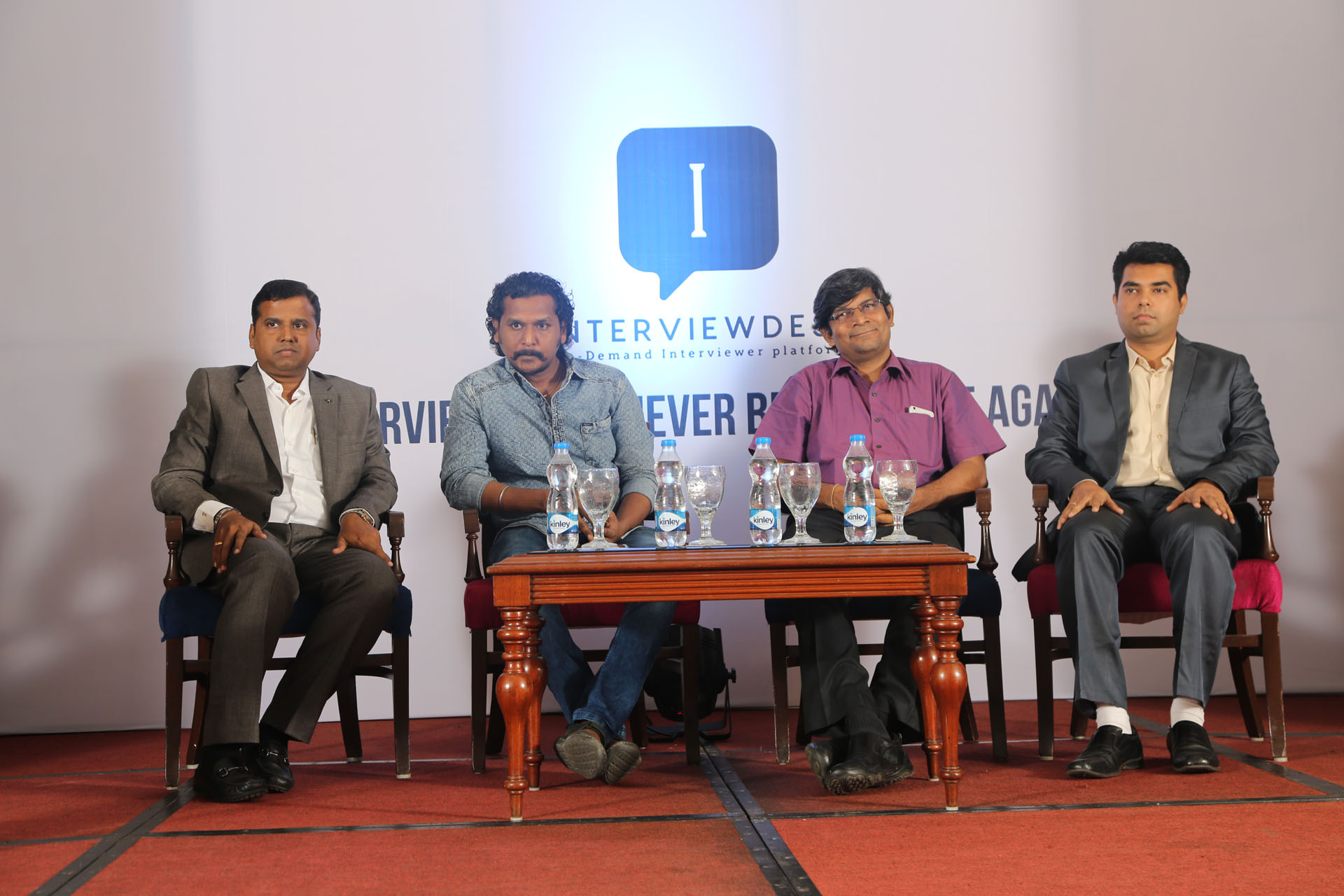 Mr.Bhupesh Nagarajan, Mr.Lokesh Kanagaraj, Mr.Kumar Vembhu and Mr. Arasu Shanker
Mr. Bhupesh Nagarajan, Executive Director of Indira Projects and Developments spoke about Mr. Pichumani and InterviewDesk. He too shared his experience and journey in construction projects.
Mr. Lokesh Kanagaraj, Director of the blockbuster movie Managaram was part of the event and he spoke about the concept of InterviewDesk and shared his movie journey.
Mr.Kumar Vembhu was part of Zoho before he founded GoFrugal Technologies.  Mr. Kumar spoke about InterviewDesk and the brain behind it, Mr.Pichumani. He also shared his recruitment experience in colleges and corporate world and more.
Mr. Arasu Shanker, CEO of EShakti.com has created one of the top online fashion brands in the United States of America. He then spoke about InterviewDesk and Mr.Pichumani Durariraj.
Before wrapping up the event, the logo of InterviewDesk, India's First On Demand Interviewer Platform was unveiled by the guests.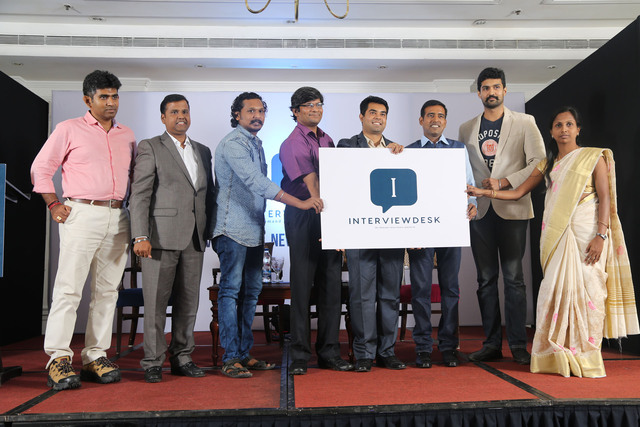 Here are some of the pictures from the launch event
Disclaimer: The post is in collaboration with InterviewDesk https://www.interviewdesk.in/