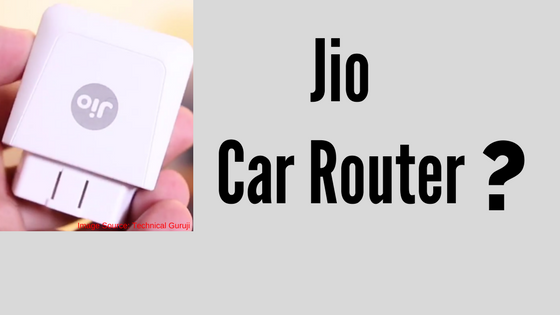 Jio has revolutionized the internet market in India with its free data and attractive paid plans. Jio has been working on various interesting things behind the scenes. It is creating an ecosystem of products with the 4G network. We had seen leaks of Jio DTH, Jio Feature Phone and more.
Jio is all set to shake the automobile accessory market with launch of its new product in Jio portfolio, Jio Car Router. The news was exclusively posted by Technical Guruji on Youtube.
Let us see what exactly is gadget about.
Jio Car Router And Its Features:
Jio Car Router is an automobile accessory that converts your normal car into a smart car. It comes with a 16-pin connector and attaches in your car. This small device can do many interesting things. Here are some of them
Track your car right from your mobile with the help of Android/iOS app
Create a mobile hotspot inside the car
Get detailed analysis of your driving like mileage etc
Alert system integrated into the app and the router
Create a driving zone and get alert when the car crosses the zone marked in the map
Speed alerts displayed in the app
Image Source : Technical Guruji
Jio Car Router comes with a dedicated SIM Card Slot which takes Jio SIM and integrates seamlessly with the car and the mobile application. Jio might bundle free data along with this router and provide this gadget for free as it did with mobile data.
Pricing and Availability:
Jio Car Router is rumored to come with a price tag of 2500 INR and it is expected to available later this year. This information was first broken by Technical Guruji.
We will update the post once we get more information.
Like and Share this post if you found it helpful. Are you excited for Jio Car Router. Let us know in the comments below.